iQuarius Technologies
High speed inkjet. On sheets.
Inkjet printing is extremely productive, reliable and cost efficient Since the introduction of continuous feed inkjet, the transfer from offset to digital has accelerated, just as the transfer from monochrome to color printing. However, combining high-speed inkjet with sheets of paper proved a challenge for all players in the print industry. iQuarius technologies embrace a range of innovations to facilitate productive and reliable high-speed inkjet printing on sheets up to B3 format, offering premium quality prints on a broad range of paper types.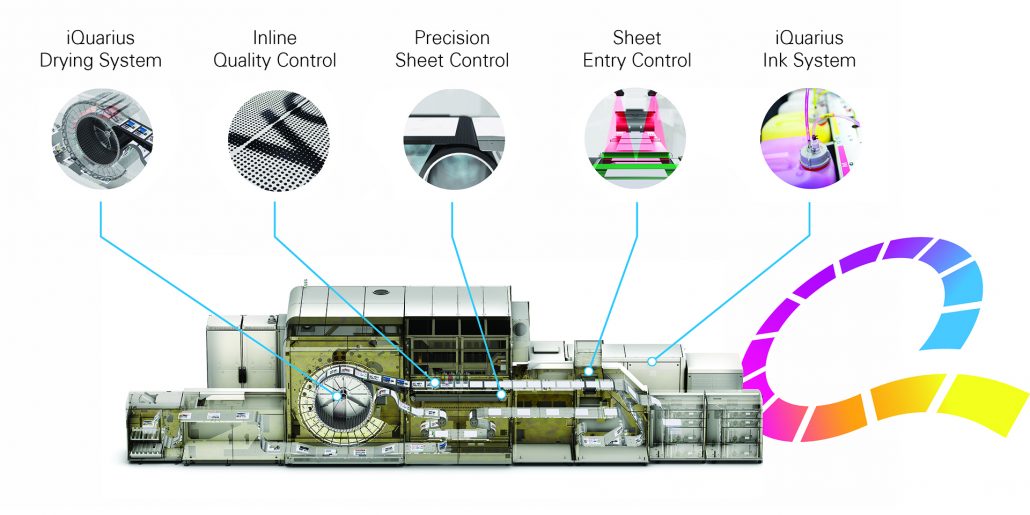 1
iQuarius Drying System: controlled drying for flat output. Four technologies are used simultaneously to gently dry the sheets at moderate temperatures. While drying, the sheets stick to the drum with vacuum, to suppress waving.
2
iQuarius Inline Quality Control: real time detection and correction of nozzle failures during the printing
3
iQuarius Precise Sheet Control: precise positioning and flattening of sheets on a seamless metal belt by means of vacuum technology. A minimal print gap enables maximum print quality.
4
iQuarius Sheet Entry Control: automatic detection and purging of sheets with a deformation before entering the print engine
5
iQuarius Ink: a proprietary ink that minimizes paper deformations, such as waving. This ink enables premium quality and robust prints on many media