Explore our range of floor graphics media
IJM684 – Textured Floor Graphics
IJM684 Indoor and Outdoor, Matt Textured Floor Graphics is a 385 g/m² is a slip resistant, self-adhesive, textured matt PVC coated fabric that works great on carpet, tile, concrete, wooden and PVC floors, untreated stone and almost every surface indoor and outdoor.
Adheres to a wide range of surfaces
Structured matt finish
Slip resistant
Easy to apply and remove
Compatible with: UV, UVgel, (eco) Solvent, Latex
IJM715 – Anti-slip Floor Graphics
IJM715 is a 360 g/m², self-adhesive, soft calendared vinyl with a unique hexagonal R10 certified anti slip surface – perfect for robust floor graphics.
Unique hexagonal structured finish
Slip resistant
Easy to apply and remove
Compatible with: UV, UVgel, (eco) Solvent, Latex
IJM645 – Polymeric Gloss Vinyl
IJM645 Polymeric Vinyl Gloss, Grey Permanent is a 80µm, durable high quality, polymeric, PVC film with a glossy finish and a permanent grey opaque adhesive suitable for long-term outdoor use.
High gloss, white surface
Permanent, grey poly-acrylic adhesive for opacity
PE coated release liner
Excellent lay flat properties
Compatible with: UV, UVgel, (eco) Solvent, Latex
Safer spaces with floor graphics
As our society adapts to new 'social distancing' measures, finding ways to identify a safe distance is at the top of everyone's agenda. To support citizens, customers and employees in achieving this, every organisation is faced with the urgent task of fixing signage in public and work spaces. Floor graphics have been a widely used application to enable safer spaces with sales plummeting over the last few months.
Fit for purpose floor graphics
When producing floor graphics that are fit for purpose, many considerations should be made including wear-resistance, scratch-resistance and suitability for both indoor and outdoor use.
Canon Imaging Supplies' range of floor graphics allows print providers to produce floor graphics that are ultra-robust, have great adhesion properties and are easy to apply.
Explore more of our range
Of rolled media for all of your indoor and outdoor wide format applications.
Vehicle and fleet graphics
Related products
Solutions that help you achieve maximum results and efficiency.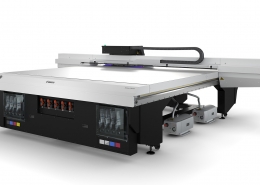 High-volume flatbed printer designed for productive, rigid media printing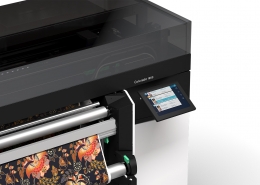 The first 64" roll-to-roll printer with UVgel technology
Fill out the form and one of our experts will get back to you as soon as possible.