Canon wins six Pinnacle Awards across multiple categories

Canon today announces that PRINTING United Alliance has again recognised the quality of Canon's production printing products and technology with five Pinnacle Product Awards and one Pinnacle InterTech Award.
Product awards in the software category were presented to PRISMAcolor Manager for color management and quality control and to PRISMAsync winning for best Software-RIP (raster image processor), while Arizona 2300 series UV flatbed printers won in two categories, for both UV/Latex Flatbed and UV/Latex Flatbed + White, while the Colorado 1630 series was recognized in the Roll-to-Roll UV (under 80 inch) category. Additionally, Canon also won a Pinnacle InterTech Award for its FLXfinish+ that offers the unique ability to print a mixed matte and gloss finish in one print, at the click of a button.
Each of the 160+ entries in more than 58 categories, spanning analogue, digital, output and non-output technologies, was reviewed by an independent panel of over a dozen judges made up of distinguished decision makers within the printing industry.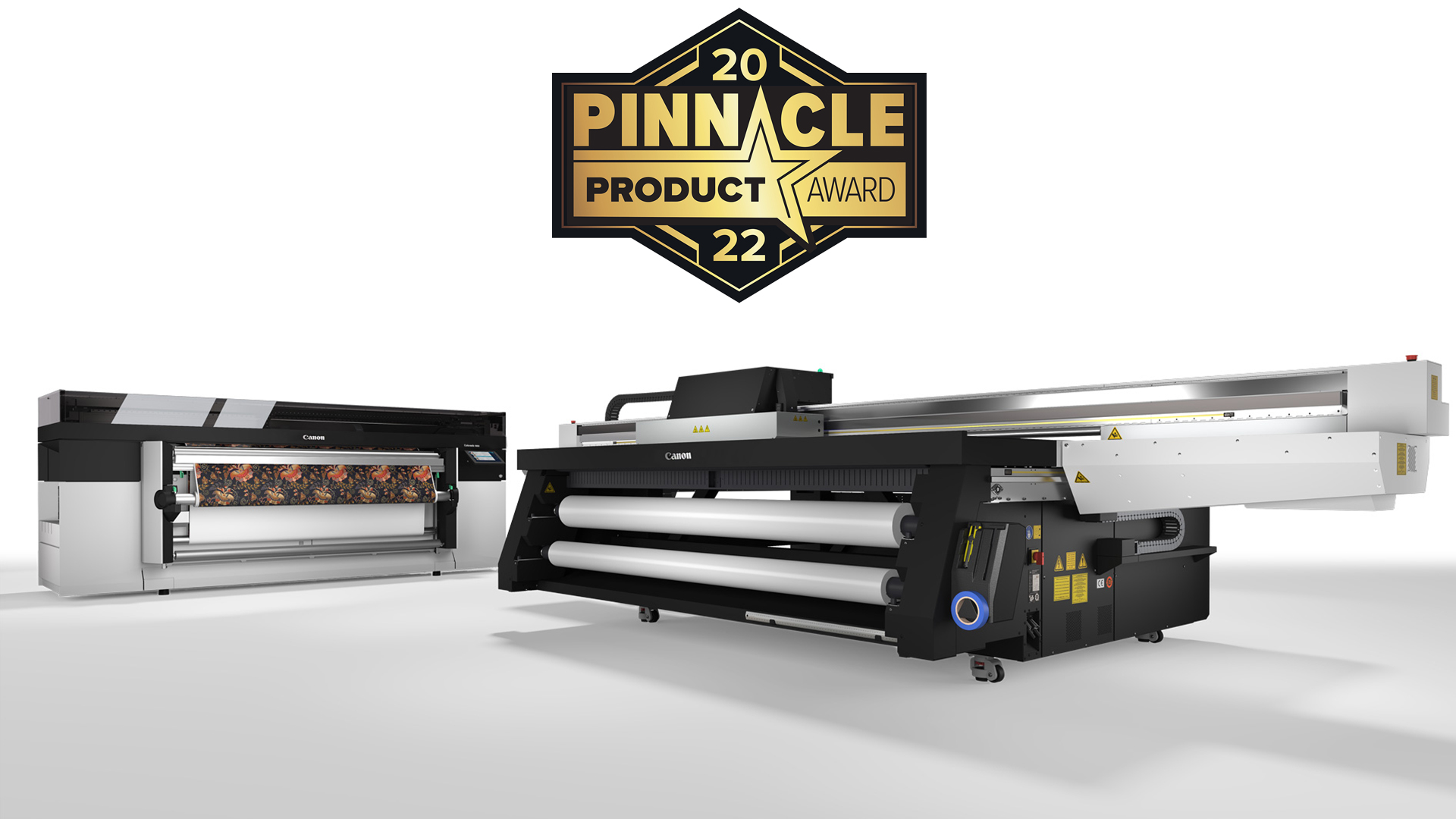 Five Pinnacle Product Awards 2022
Canon products have won Pinnacle Product Awards in the following categories for 2022:
Raymond Weiss, Vice President, eLearning and Certification, PRINTING United Alliance, comments, "This juried competition represents the best of the best among commercial hardware, software, consumables, and industrial and screen equipment, and judges are basing their decisions on objective criteria. Some of the categories were decided by tenths of a point—so fierce was the competition this year—and with outstanding entries like the Colorado and Arizona, the judges certainly had their work cut out for them."
PRISMAcolor Manager enables commercial printer operators to manage the complex task of proactively measuring and assessing colour by semi-automatically checking and comparing quality and consistency across Canon and non-Canon printers.
PRISMAsync Automated Color Tasks allows Canon cut-sheet toner-based digital press operators to manage the complex tasks of press linearization, sheet uniformity correction, G7 calibration, media colour profiling, G7 verification and results reporting at the push of a button, completely hands-off for all loaded job stocks, all in one step.
The Canon Colorado 1630 is a 64 inch, roll-to-roll printer that features Canon's unique UVgel ink technology, combining excellent print quality, best-in-class productivity and expansive application versatility with low cost of ownership.
Freeing operators to manage their business rather than their printer, the Arizona 2300 series features award-winning Arizona FLOW technology for zoneless media constraint on the flatbed table. Printing at speeds of up to up to 95 m2/h (1,023 sq. ft/hr) and with up to eight colour channels employing Light Cyan, Light Magenta, White and/or Varnish, the Arizona 2300 series is capable of handling the most demanding mixed media applications."
Peter Wolff, Senior Vice President and Chief Marketing Officer, Canon Production Printing comments, "We're very pleased to once again receive multiple prestigious Pinnacle Product Awards from the PRINTING United Alliance. It's gratifying to be recognized in a variety of categories that encompass both hardware and software and to know that Canon continues to be ranked so highly when measured against objective criteria for quality. These awards exemplify our continued commitment to developing innovative technology that helps our partners and customers meet the ever-changing demands and challenges they face in today's print market."
Related Posts
02/11/2023
Uncategorized
We are delighted to announce the appointment of Steven Badger as Canon Production Printing new Head of Sales & Professional Services across both the Large Format Graphics and Technical Document Systems Sector within Oceania, effective Monday 30th October. Steven takes on this position after spending 7 years overseas in various positions within the Canon Production […]
Learn more
https://anz.cpp.canon/app/uploads/2022/10/lfg-award.jpg
1080
1920
Pim Odekerken
Pim Odekerken
2022-10-14 01:28:30
2023-09-05 02:51:47
Canon wins six Pinnacle Awards across multiple categories